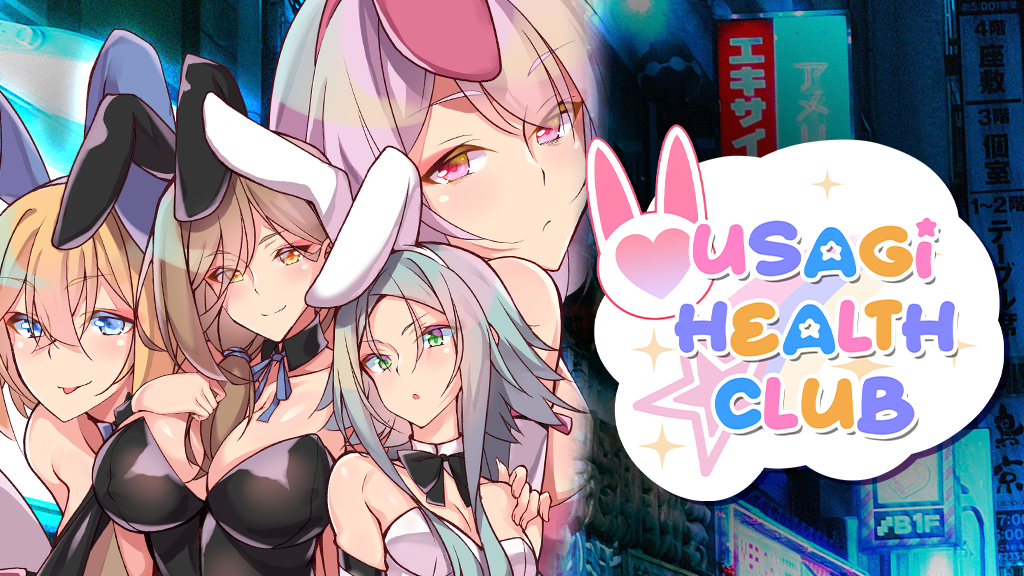 Usagi Health Club
A downloadable game for Windows

Tanaka Ryuu is your typical salaryman who worked as an accountant in a company. He lived a boring life full of work every day until one day, he went drinking with his colleagues at Shinjuku after work. As he heads home, a lovely girl in a bunny outfit introduces "Usagi Health Club," a health club for people like him. Reluctantly, he decided to give it a try. But all is not what it seems; what sinister world would Tanaka discover in the nightlife of Tokyo and this club in particular? How would he ever see things differently again?
*The game is based in an actual location in Tokyo, Shinjuku, but the club is fictional.

Lovers of Gentlemen Club! Do you like gaming and bunny girls at the same time? Do you like to be rewarded with sweet, sweet love from bunny girls? Then this game is for you. Featuring some minigames you played in Casino, you will get to bet your money away with some of the top-class beautiful bunny girls in town. If you win, not only will you get more money, but you will also get to unlock some unique scenes with them as a reward too! Warning: Contains heavy netorare and dark scene that is not for the fainted heart.
At least 6 hours of gameplay.
Featuring more than eight minigames.
4 Bunny girls for you to choose from every night.
Over 20 CGs of all characters.
5 Endings.
Gambling away y-o-uuuurrr sooouuullll
The game contains heavy explicit sexual content such as:
Blowjob, hardcore, prostate massage, penis-milking, non-penetrative sex, breast-feeding, gang bang, penis lock, creampie, paizuri, sex with condom, glory hole, footjob, pregnant, lactation, anal penetration, netorare, bdsm, bondage, tattoo, handjob, threesome, prostitution, rimjob, blackmail, pregnant sex, gambling, impregnation, interracial, fingering, drugs, pissing and suicide.
Purchase
In order to download this game you must purchase it at or above the minimum price of $19.99 USD. You will get access to the following files:
Usagi Health Club.zip
649 MB
Download demo